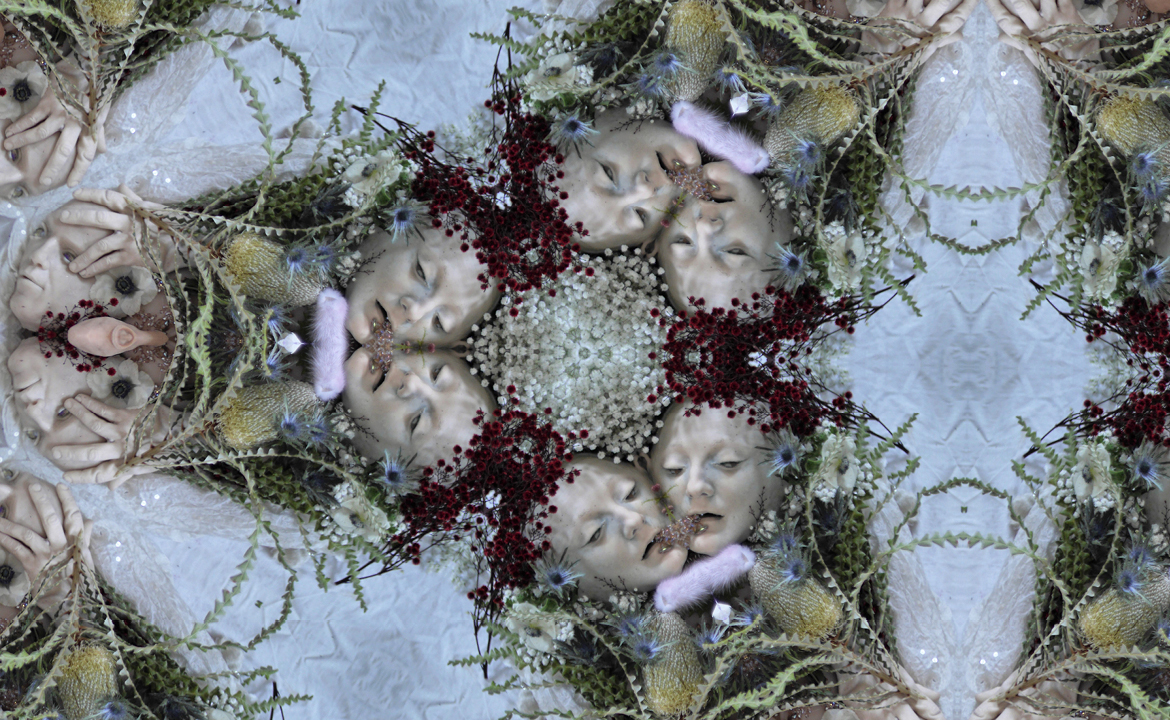 Corpo Surreal
Corpo Surreal is a playfully serious musicdramatic performance taking place in a modern, secular Eden. In this poetic dream-universe, opulent, extravagant, and hyper-surrealistic puppets interact with expressive contemporary dance and an ambient, electronica-opera song-cycle to reflect the new individual through a fantasy of hyper-aesthetic surgery, gene therapy, and instant evolution.
The performance follows several characters' interweaving journeys towards the future freedoms of self-expression and new identity. By customizing the body through refined implantations and corporeal manipulation, the extreme quest of self-authoring human design is compellingly portrayed.
Corpo Surreal is an ecstatic tribute to the courageous attempt of the corposurreal transformation. An enigmatic, innovative and intensely mesmerizing, musicdramatic experience that releases the eyes and imagination of both creator and audience.
Corpo Surreal is produced and performed in English (song and spoken words).
The musicdramatic production is an exciting and rarely seen international co-production and collaboration between the Danish performance and neo-puppet theater Sew Flunk Fury Wit (puppetdesigner Svend E. Kristensen and director Jesper Pedersen), the Japanese performance company Antibodies Collective (choreographer and dancer Yoko Higashino & sound designer Toshino Kajiwara), Icelandic soprano Ísabella Leifsdóttir from Alþýðuóperan, American librettist Neill Cardinal Furio, and Spanish-Mexican electronica composer Murcof.
Corpo Surreal is planned for a larger agreed international tour in Denmark, Japan, Egypt, Iceland. The complete tourprogram includes several venues at international festivals for performing arts, the Royal Theatre and international opera-festivals.
Available for touring 2020-2021
CONTACT:  Producer Kristine Kohlmetz producer@sewflunkfurywit.dk
Artists
Svend E. Kristensen (DK) Artistic director, puppet designer, performer & puppeteer
Jesper Pedersen (DK) Director
Yoko Higashino (JP) Coreographer & dancer
Ísabella Leifsdóttir (IS) Soprano
Fernando Murcof (MX) Composer & sounddesign
Neill Cardinal Furio (US/DK) Libretto
Johan Kølkjær (DK) Scenographer
Anna Gammelgaard (DK) Costume designer
Arnar Ingvarsson (IS) Light designer
Toshino Kajiwara (JP) Sounddesigner
Andreas Hald Oxenvad (DK) Technician
Tour-program Corpo Surreal 2020

Premiere
4-7 2020 February – Teater Katapult – Aarhus (DK)
Buy ticket Aarhus
https://katapult.dk/kalender/2019/2020/corpo-surreal/
12-16 2020 February – Royal Danish Opera – Copenhagen (DK)
Buy ticket Copenhagen
https://kglteater.dk/en/whats-on/sason-20192020/gastespil/corpo-surreal/
23-24 2020 February – Spiral Hall – Tokyo (JP)
28-29 2020 February – ROHM Theatre – Kyoto (JP)
Buy ticket Kyoto
https://rohmtheatrekyoto.jp/en/event/56821/
7-8 April 2020 – D-CAF Downtown Contemporary Arts Festival Cairo (ET)



25-27 2020 May – Teater Momentum – Odense (DK)
Buy ticket Odense
https://www.teatermomentum.dk/event/corpo-surreal/
28-30 May 2020 – CPH Stage Festival International days Folketeatret (DK)
Oktober-November 2020 – Planned tour in DK
Dates & venues comming up
22 Oktober-1 November 2020 – Operudagar – Reykjavik (IS)
Buy ticket Reykjavik
https://www.operudagar.is/en/
The production of Corpo Surreal
has recieved support from:
The Danish Arts Foundation (DK)
The Nordic Culture Fund (DK)
The Augustinus Foundation (DK)
The A.P. Møller Foundation (A.P. Møller og Hustru Chastine Mc-Kinney Møllers Fond) (DK)
The William Demant Foundation (DK)
The Aage og Johanne Luis-Hansen Foundation (DK)
The State Music Fund (IS)
The Association of Danish Actors (DK)
The Association of Danish Composers / KODA (DK)
The Cultural grant municipality of Aarhus/Kulturudviklingspuljen Aarhus Kommune (DK)
The Scandinavia – Japan Sasakawa Foundation (IS)
The Embassy of Denmark in Egypt (DK)
Kyoto Arts Center (JP)
The Agency for Cultural Affairs. Government of Japan through the Japan Arts Council (JP)
CorpoSurreal is an international co-production between Antibodides Collective (JP), Sew Flunk Fury Wit (DK), and Alþýðuóperan (IS) in co-operation with Katapult Theater and The Royal Theater (DK).